Just after dark one gusty evening in the autumn of 20–, I was enjoying the twofold luxury of meditation and ein Dunkles in company with my friend M. in our little library or literary closet. For one hour at least we had maintained a profound silence, while each, to any casual observer, might have seemed intently and exclusively occupied with the curling wisps of American Spirit within our chamber.
Additional raw material for a brown study might have been the thickness of the dust which enveloped us. The gray plague carpeted the originally white, so-called Berber carpet, and extended under the furniture to unreachable recesses – domestic black holes. It also turned shelves into mysterious burial sites, making identification of curios on them almost impossible. But M. and I were not morbid about housekeeping. While the former sniffed for clues among decaying tomes, timeworn mica specimens, dog-eared greeting cards, an Ikebana sculpture of dead flowers and dead branches, I sought enlightenment on the opposite wall, where illustrations of a starlet, mandolin player, jester in motley and trio of nymphs – bygone attractions on the covers of framed Broadway playbills – seemed to call from the past that "The show must go on!"
A high-definition television thrust the disturbing fashion statements of a golf tournament and its frighteningly earnest whispers into the chamber, so I had to make the tv remote do its worst, plunging us in a deeper funereal stillness. In desperation, groping for illumination past dormant yellow candles which resembled aging blocks of monastery cheese, M. and I, pulling as one, managed to open the heavy-as-a-prison-door "sliding" glass door before the dissipating scent of American Spirit could prevent us from following it to its source. Once outdoors, we halted before a redoubt of wicker chair, pillows, books, smartphone, magazines, paints, clipboard, Assam tea, bills, fans (electric and Japanese sensu), nail polish, nail-polish remover, pens, pencils, ashtray and post-it notes. A wood screen reminiscent of a partition for a courtyard maze shielding a shrine in Mecca stood between us and the Golf Widow.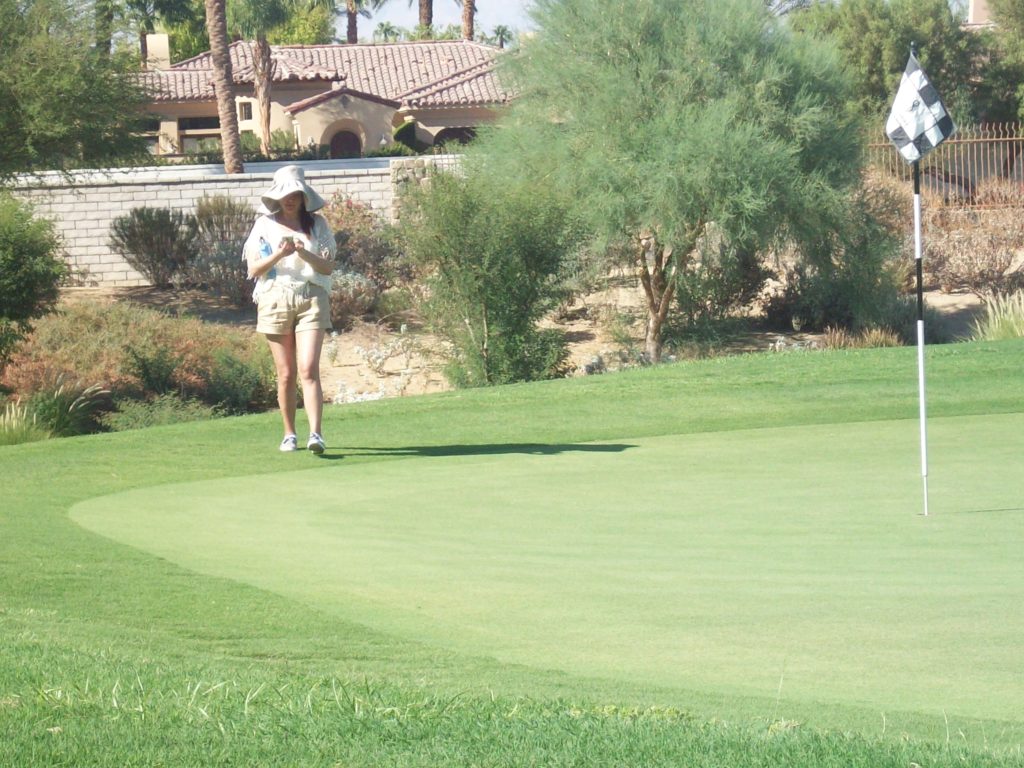 Golf Widow composes Ode to Bighorn Sheep and keeps score for the Old Man.
coming in 2018
Song reinterpretation: Golf Blooded, after Foreigner's Hot Blooded (1978)
Map: Fair Hill View for an Afternoon