On a golf course in rural Warner Springs CA, the Old Man invokes a spirit of the past, his past as a playwright, for hypothetical audiences in Pittsburgh PA, New York NY, Galway IR, Hannover DE, St. Gallen CH, San Diego CA, Woodside CA and cyberspace. The odyssey which has led him to the wilderness is recounted in 18 stages.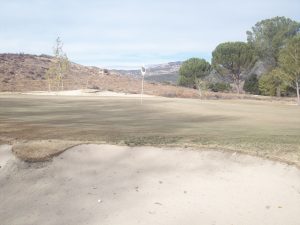 In unison he channels the playwright's doppelgänger, the "prompter," filling the 18 breaks between stages with the prompter's solo rendition of his transformative theatre experience, The Wooster Group's Hamlet, which the British Library has ranked one of the 10 key performances of Shakespeare, ever.
On the Old Man's golf bag is written:
I am the boy / That can enjoy / Invisibility
On his scorecard pencil:
Newly imprinted and enlarged to almost as much againe as it was, according to the true and perfect Coppie.
The first narrative is straightforward in the first-person, while the Hamlet proceedings reanimate the entire (or almost) Wooster Group endeavor. The latter are reproduced textually as follows:
hamlet key
regular – Prompter
italic – Shakespeare (# indicates new speaker)
strikethrough – Richard Burton (1964)
bold – Scott Shepherd (2008/2013)
ALL CAPS – set/costume
BOLD ALL CAPS – sound
Other golfers keep their distance, wary of the solitary voice in the wilderness.
Prologue
Playwright. My earliest theater memories begin in New York City with Shakespeare. I was 12 in 1972 for Two Gentlemen of Verona on Broadway as a rock musical.
Prompter. What do you remember about it?
Playwright. The balcony of a large, dark theater. The distant light of the stage. I was naïve enough to be unintimidated by the Big Apple, thanks to a solid production team comprised of my mother, aunt and grandmother. The family, without my father, would visit Aunt Ruth, a speech therapist and aspiring actress, on Manhattan's Upper West Side. The "sets" there were interchangeable – one minute defined by the concreteness of the City That Never Sleeps, not excluding the playground at the foot of her apartment building – the next minute by the lawns of Central Park. Aunt Ruth's wood parquet floor, theatre posters, plays, soundtracks of musicals, and books about actors and art formed a restorative "green room" before and after excursions. But I'm getting ahead of myself. Though I was green on New York's mean streets – and in its mean theatres – a green light flickered within.
Prompter. After Two Gentlemen came –
Playwright. A Midsummer's Night Dream or Romeo and Juliet or both in Miss Stroyd's high school English class.
Prompter. What do you remember about them?
Playwright. They did not embolden me to join the drama club, which was not recognized by my peer group, which valued sports, the conventional road to status.
Prompter. What about Hamlet?
Playwright. Around the same time I read it on my own. It was beyond me, and I was too insecure to seek out a teacher who would make it intelligible. Around 1980 I saw the 1948 film with Laurence Olivier, which helped.
Prompter. Let's fast forward.
Playwright. After Shakespeare came –
Prompter. Skip to the love or death scene.
Playwright. Skip decades?
Prompter. It's 2008. It's LA. There is a full house for Hamlet –
Playwright. "…re-imagined by mixing and repurposing Richard Burton's 1964 Broadway production, directed by John Gielgud. The Burton production was recorded in live performance from 17 camera angles and edited into a film that was shown as a special event for only two days in nearly 1,000 movie houses across the U.S. The idea of bringing a live theater experience to thousands of simultaneous viewers in different cities was trumpeted as a new form called 'Theatrofilm,' made possible through 'the miracle of Electronovision.' The Wooster Group attempts to reverse the process, reconstructing a hypothetical theater piece from the fragmentary evidence of the edited film. We channel the ghost of the legendary 1964 performance, descending into a kind of madness, intentionally replacing our own spirit with the spirit of another."
Prompter. After becoming a Wooster groupie, you gave up writing plays, right?
Playwright. Yes and no.
Prompter. Now ask me about my story.
Playwright. I know your story.
Prompter. It's newly revised.
Playwright. You have the honor. Tee it up.
Prompter. No, after you. Play away.
1.
Playwright: Pittsburgh, New York and Galway
Prompter: Hamlet
2.
Playwright: Galway and Hannover
Prompter: Hamlet
3.
Playwright: Pittsburgh
Prompter: Hamlet
4.
Playwright: San Diego
Prompter: Hamlet
5.
Playwright: San Diego
Prompter: Hamlet
6.
Playwright: San Diego
Prompter: Hamlet
7.
Playwright: San Diego
Prompter: Hamlet
8.
Playwright: St. Gallen
Prompter: Hamlet
9.
Playwright: San Diego
Prompter: Hamlet
10.
Playwright: San Diego
Prompter: Hamlet
11.
Playwright: San Diego
Prompter: Hamlet
12.
Playwright: San Diego
Prompter: Hamlet
13.
Playwright: Woodside
Prompter: Hamlet
14.
Playwright: San Diego
Prompter: Hamlet
15.
Playwright: The Internet
Prompter: Hamlet
16.
Playwright: San Diego
Prompter: Hamlet
17.
Playwright: The Internet
Prompter: Hamlet
18.
Playwright: San Diego
Prompter: Hamlet
selected ghostwriters, in order of appearance
William Shakespeare, Hamlet
James Joyce, Ulysses
Andreas Gryphius, Absurda Comica oder Herr Peter Squenz
Samuel Beckett, Endgame
Bertolt Brecht, Mutter Courage
Heiner Müller, Die Hamletmachine
David Mamet, A Life in the Theatre
Elizabeth LeCompte, Hamlet
Gertrude Stein, Doctor Faustus Lights the Lights
Elfriede Jelinek, Das Werk