Dear Sewickley Herald Editor,
Once a regular visitor to your community, I had a peculiar experience there which I have kept to myself until now. I relate the illuminating events in your pages because no one else has listened and I have to tell somebody; some of your readers, local people, may possess a morbid curiosity. The trouble started with the Molyneaux map. Yes, L.G.'s infernal Sewickley Heights and Vicinity. I was not its intended audience!
I am minding my own business, walking barefoot on exclusionary Allegheny Country Club's golf course – thanks to the miracle of 1937 cartography – or ambling across the property lines of estates with evocative names, surrounded by drawings of toffee-nosed country life whose preciously attired hunting and shooting "gentlemen" in the company of well-bred horses and hounds are naively rendered enough to be deceptively welcoming.
A network of streets to the southwest down by the river is not a warren of the poor. The wealthy have collected in Osborne and Edgeworth too, as close to the like-minded on the Heights as their financial worth and zoning laws allow. Space considerations prevented L.G. from including a banner for the name of each and every pricey home. In this microcosm of the Gilded Age, Nathaniel Hawthorne's novel The House of Seven Gables (1851) intruded upon my thoughts…
Yours most sincerely,
The Old Man
sources
Hawthorne, Nathaniel, The House of Seven Gables (1851)
Molyneaux, L.G., Sewickley Heights and Vicinity (1937)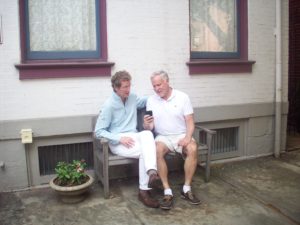 Dedicated to Mike May, former editor of the Sewickley Herald