Thanks to a cancellation, I am at the Djerassi Resident Artists Program in Woodside CA in October 2006, an "emerging artist" at age 46. A 2003 resident has been named a MacArthur "genius." A work by a 2005 alumnus (and eventual MacArthur awardee) would become, in 2009, one of my seminal theater experiences. The visiting program founder shows off the oasis, via helicopter, to the director of Vienna's Albertina Art Museum while they negotiate a gift of Paul Klee paintings. My seven fellow Oct 2006 residents have solid credentials.
I found nothing about you online.
The speaker addressing me is rumored to be the recipient of a commission from the Albertina. The nice "How do you do?" during the first communal meal ought to mortify a playwright without a highlight reel of curtain calls, but someone on the Djerassi selection panel (more than one?) saw promise in him/me. Consequently, my immediate future is 30 days on 583 acres in a peaceful house (a far cry from home's 727 square-feet).[1] I am ready to bear the responsibility of consuming evening meals (veggies from an on-site organic garden!) prepared by a professional chef. During breakfast and lunch we are expected to fend for ourselves, usually on leftovers. After I make a savory pumpkin tart, nobody asks for the recipe.
The first of many treks across Dj (short for Djerassi)'s six habitats[2] takes an ignominious turn after Alissa Neglia's Roots to Crown (2006) leaves a gruesome impression not intended by the artist. While taking in sky and treetops with the back of my head against Neglia's upholstered tree stump in a glade, I take in the sensation of an insect in my ear! For hours, I knock myself upside the head, but the creature is not dislodged, nor does it emerge on its own. The show of bravery is followed by a short drive to an infirmary for a diagnosis of "ear fullness" or "barotrauma" rather than bug invasion.
San Francisco is a mere 31 miles away. Half Moon Bay, Neil Young and Koko are within walking distance. Yet they, and the beckoning 583 acres, must be resisted. Duty calls at EuroNevada, my work-in-progress. Before we go there, here is some more Djerassi-nalia – "addresses" noteworthy to me, lasting marks on the Dj-scape left by past transients:
Field Road: Roland Meyer's Dialog (2004), which becomes a nodding acquaintance, is a cousin of farms, and rickety vestiges of farms, which an impressionable kid passed in a car on the Pennsylvania Turnpike. "Treat yourself to the best (sic)" urged barn doors advertising Mail Pouch chewing tobacco. Unanchored by a period, the catch phrase had a maddening tendency to detach itself from the barn door and hitch a ride with travelers whether they liked it or not.
Field Road: Alison Moritsugu's Landscape Painting (1995), a painting on raw wood in the style of Flemish Realism, is a simulacrum of the artifice of the pastoral which, though I don't realize it at the time, sends me down a path which leads to my ongoing online project New Monuments Golf Club.
Stations Loop: Mark Oliver's Estaciones de Luz (Stations of Light,1987-8), a late and pacific recruit to the phalanx of fortifications erected along the California coast during World War II to repel Japanese invasion, is an adult version of holes dug in my youth and raised to the status of forts.
Staccioli Grove: Mauro Staccioli's scultura interventa (intervening sculpture) (1989) surprises mortal hikers with a large plinth suspended among oak branches, an enigma that could pass for a spine-tingling location in a Hollywood sci-fi – at vastly smaller expenditure of money and fuss.
Where is my head in October 2006? I'm thinking about climate change and Second Life, the virtual world launched in 2003. The exposition of these concerns takes me far from Dj to Berlin, Germany. Travel considerations don't end there, for I have to distance myself from the English language itself: EuroNevada is being written in German, which – another leap! – is not my native tongue. Why Deutsch? It has become "second nature." I learned it at college, including a year spent in Hannover in Niedersachsen. A one-act in German survived a run of two student stagings. A run of one if a boozy party piece does not count. My Doppelgänger was nurtured from then on, his language acquisition reaching its pinnacle (if you ask the Swiss) by marriage to a Swiss. The (now former) in-laws were kind enough to shop around (in vain) a more ambitious play than the one-act. Deutsch is also a practical choice, or my idea of practical. It may open (stage) doors in German-speaking countries.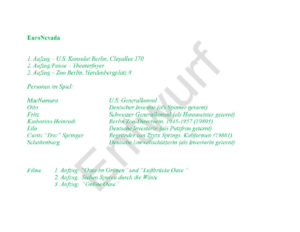 The play's main character, MacNamara, is U.S. general consul. He is a dead-ringer for the hustling, bustling Coca-Cola suit played by James Cagney in One, Two, Three (dir. Billy Wilder, 1961). Mac's ideal of post-apocalyptical heaven is a subterranean replica of the Prussian royal palace Sanssouci (Carefree) in suburban Potsdam. He draws a line, however, at eternity in the burbs. His Carefree must be centrally located. Hardenbergplatz 8, the location of the Berlin Zoo, will do nicely.
While dubious "investors" – Mac has to find investors, but they could be spies! – creep around the consulate, two historical personages who have "passed" conduct a ghostly afterlife courtship within the consulate's very walls: Katharina Heinroth (1989†), director of WW II-damaged Berlin Zoo, and Curtis Howe "Doc" Springer (1986†), founder of Zzyzx Springs CA, a health resort in the Mojave Desert which Springer intended to be the "last word" in resorts. Like Mac, "Doc" pushes elixirs, Hollywood Pep Tonic and Antediluvian Desert Herb Tea. Katharina and "Doc" (and their disembodied voices) manifest via elevator, radio and answering machine, which operate on a previously untapped, liminal frequency.[3]
Mac is preternaturally aware of Katharina and "Doc," but the demands of being "in two places at once" (consulate and zoo) sap his energy and judgment. Is his office on the fritz (his factotum, incidentally, is named Fritz) or reaching new levels of efficiency?
A bossa nova soundtrack drifting in and out of the proceedings destabilizes Mac's patriarchal mojo. The beat is also a conduit for expressing a heretofore absent sensuousness in my writing, or the faint signs of one, for which I have Suzanne to thank. Videos of Mac's promos for potential investors contract the theater space, immersing everybody in Mac's vision. It is nearly omnipresent on smart phones, in the foyer, in the bathroom. Other videos expand space, releasing spectators from Mac's clutches as they witness scheming behind his back in the greater world. By the end of EuroNevada, high temps have slowed the pace of business to a crawl, and a human chemistry released by the heat has altered the play's dominant corporeal entity: Transformed, Mac has entered a fluid state of renewal.[4]
Of Dj's few requirements, two are leaving a memento and performing a show-and-tell about our projects. Most of us (2,403 since 1979) bequeath mementos which are literally nonexistent by comparison with Dialog, Landscape Painting, Estaciones de Luz and scultura interventa. Buried in the Dj archive are windows into other experiences, work samples such as scores, poems, photos and nobody knows what else.[5] Many, I will speculate sight unseen, must speak for themselves, standing alone as artworks in their own right. Some must fit neatly into career paths, some must be experiments that perhaps end here. The program founder attends one show-and-tell (not mine). Our brief conversation during the ensuing mix-and-mingle does not compel him to whisk me off to fame and fortune. On its face, the EuroNevada draft communicates nothing about Dj, so I contribute an amateur pencil sketch to the crypt. Somewhere in storage is an 8½ x 11" piece of paper with the names of the people who heard my pitch: my seven peers, the program director, and two Dj staffers. (The latter three are artists themselves.) Explanatory notes may lend substance to the delicate page, which may also document two music tracks played for the occasion (bossa nova, of course). That's it, or all I can recall. I worry that the doodle, if unearthed, is matter for burning instead of a frame, that it does not remotely convey my gratitude for the opportunity to be where art is cherished rather than taboo – where I can "visit Zzyzx" and "visit Carefree."
Água de beber, água de beber camará. (Give the flower water to drink.)
The best spot on the property to banish my demons is the western edge of the Artists' Barn, a remodeled 12-sided cattle barn with visual-art studios, dance studio, darkroom, music-composition studio, wood-burning stoves, sleeping lofts, kitchen, common area, library, shared bathrooms, laundry facilities, workshop – and a view. Seated in the presence of Half Moon Bay, as the hour to part from Dj nears, I study Tragedy, a Tragedy by Will Eno. The play's unrushed cadences – mock-elegiac prose loaded with sarcasm – "speak to me" more than so much "stagy" dialogue has done for longer than I have admitted. I include my own lines in that assessment. I wonder if Eno has been a Dj resident.[6]
Wild grizzlies used to flourish in Woodside. Now extinct in California, they survive on the state flag. A hearse carries me along Bear Gulch Road toward hustle-and-bustle San Jose Airport. Upon my return to the 727-square-feet, I try to capitalize on my residency by name-dropping. No San Diego theaters respond to the Djerassi name or mine, so they shall remain anonymous.
Outside the Oasis
"Home" in San Diego is violated with impunity by the "Farm Animals" upstairs, whose hooves turn a cheap wood floor into a lid on Hell. The name of our building is Casiola, as in mi casiola es tu casiola…Before Casiola, partner Suzanne Daniels and I live for two years in the more urban, urbane Church Lofts, where artists have enough status to enjoy lower rent. The ceiling is high enough for badminton, and in the laundry room I talk with a locally famous singer about a collaboration. An early-rising, fire-and-brimstone-breathing preacher in a makeshift church next door drives us from the Church Lofts (orig. First Baptist Church, built 1912, City of San Diego landmark no. 329). We do not belong to his flock, so as far as he is concerned we can go to Hell. At Casiola, a theater director with a national reputation living part-time down the hall is as present as Godot.
On walks to and from my clerical, civil-service day job in "America's Finest City," I hurry by the homeless with dread and sadness. Their numbers have increased over the years. Though many are covered head to foot with grime, as if set alight and then quickly extinguished, a fire within some of them belies the cinders. We share the public sidewalk with micturating dogs; regular Joes, Josés, Marys and Marias; and gentrifiers on motorized scooters. Commuters roaring by us are having a "good day"; they have their beloved personal spaces inside their "vehicles" and within the Vulcan mind-meld established with their smart phones. Without the credentials of writing success, I stand out in a large office as much as a computer keyboard.
Partial credit for the presence of the dead must go to Suzanne, who is simultaneously communing with the Undead. Her presentation at Berkeley's Undead Conference is called Between Death and Decay: Gunther von Hagens's BODYWORLDS and Anatomy Art. Suzanne is largely confined indoors with two chronic conditions after finishing her written doctoral exams in comparative literature at NYU.
In both German and English versions, EuroNevada remains unproduced.
A hoarder's corner of our 727 square feet is reserved for photocopy-paper boxes stuffed with playbills and rejection letters. Souvenirs of decades as a spectator in America and Europe, the playbills are reminders of far-flung stories and stages, many of them enacted in unconventional spaces not meant for theater. Few of the plays have seen the light of a stage again; and most of the stages themselves, I would bet, are no longer of this world.
No, poor guy.