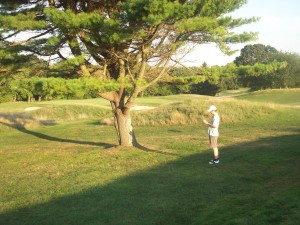 Article 1. Consult the source texts in the library before submitting a comment about course conditions.
Article 2. Deliberative play is encouraged.
Article 3. Don't even think about a cart.
Article 4. Management is not responsible for separating fact from fiction.
Article 5. Play is governed by USGA Rules of Golf except where local etiquette applies.
Article 6. For luck, plant an ocular smooch on a bouncing, puzzled baby – the infant Golf Widow with the Maternal Starter. Alas, our girl appears to be a bit put out about having her tranquil brown study invaded by garrulous grown-ups.
Member Benefits
A free tattoo (New Monuments logo), redeemable upon meeting the Old Man. A plot in the Remembrance Garden upon your decease.