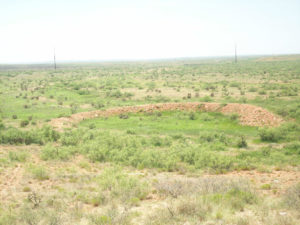 Palenque Falls Country Club was a routine job until it wasn't. The trouble started when two agent provocateurs within Smitty Associates, radicalized by climate change, disrupted the firm's renovation of Palenque Falls. We called ourselves the Dissociates.
Golf course architecture, the métier of the Associates, is a discipline of landscape design. The profession has large practitioners and small. Suz and I, college interns, were drawn to small Smitty Associates for its maverick (by golf's conservative standards) rep. We spend a lot of time with the office tools of the trade (maps, computer software, etc.), but we are not full-time desk jockeys; we get our hands dirty in the field with the local contractors and sub-contractors. With liquid emoluments (beer), Suz and I persuaded some members of the construction and irrigation crews to play "practical jokes." At first, we were shrugged off as smart alecks. The club's collection of golf books was "donated" (anonymously) to the local library, hidden among Anthropology and Archaeology; Art and Aesthetics; Criticism; Fiction; History, Biography, Politics and Economics; Linguistics; Philosophy; Psychology; Religion; Science; Travel Books and Geography. On a hunch, a concerned librarian called the club about returning the "donation." The switcheroo otherwise fell flat, but we were not done yet.
The jukebox in the Grille alias Saloon was similarly "weaponized." Bing Crosby and Yanni were replaced by rebel voices from 1960s and 70s counterculture:
David Bowie, The Rise and Fall of Ziggy Stardust and the Spiders from Mars
Captain Beefheart & The Magic Band, Mirror Man
Crosby, Stills, Nash and Young, Déjà Vu
Bob Dylan, It's All Over Now, Baby Blue
The Rolling Stones, 2,000 Light Years From Home
After a rattler "somehow" slipped into the jukebox and coiled around Alice Cooper's Killer for a siesta, a splinter group of Dissociates advanced from the jukebox to tinkering with irrigation pipes and blistering golf in social media. Its source of sustenance unreliable and its reason for being questioned, Palenque Falls was threatened by desertification. The fairways curving through the landscape, and the greens dotting it, betrayed traces of hated brown. Exposed rocks on the 4th, the patriot-themed Niagara hole, could have passed for the tomb of Lazarus. The clubhouse was ridiculed in a poetic Yelp review:
A garden of cast-off bricks…an abandoned chair rather poignant suggesting the transitoriness of time and the universe and also you can get a better view of the scaffolding in the roof.
Because the clubhouse was their home away from home, members continued to turn up for socializing and playing the course where circumstances allowed. As their opportunities dwindled, they began to fume. Before ordering us to fall in line, Smitty, project manager, son of the Associates founder and an even-tempered man with a sense of humor, ok'd a mock presentation in the temporarily operative Ballroom. Against a backdrop of remains of decorative Spanish moss above a small curved stage where the band used to perform, Suz, already an outlier in the male-dominated golf industry, sketched out a business plan of global proportions. Flanked by Dissociates slouched over folding chairs turned backward and attired in vaquero hats and black biker boots with square tips, she drily outlined a strategy for the dissolution of every eco-unfriendly golf course in existence. Club members drifted in and froze in their tracks.
Land returned to its natural state can become park and nature preserve.
To lighten the mood, "someone" turned on the disco ball (the Saloon became the Ballroom for weddings, quinceanarias and reunions). To my eye, its wobbly rotation bespoke a dissolute past and a coming storm.
Where is the profit?
Before the golden question could be answered, the disco ball, whether the result of a flanking maneuver of said "someone" or of tension in the room, fell with a spectacular crash, breaking up the meeting. Reflections in the scattered shards multiplied the number of unamused faces present.
That restless night, I studied drone footage of the project, with half a mind to delete evidence incriminating the Dissociates, until the alarming handiwork of another splinter group attracted my attention. Over the course of a month, August 3 to September 1 to be exact, a spiral appeared in a lakebed. Although the drone flight paths gave an incomplete picture, they gave enough. Initially dry, a playa was filled with water, then heavy equipment, which was not authorized to be there, did its thing. Trucks dropped loads of red rubble, bulldozers pushed the red rubble into position. Both types of behemoth raised dust plumes, red scrims carried off by the wind.
Four Ants directed the operation, a counter-revolution of building rather than dispersal. I surmised they were the leaders by their periodic huddles. They were as methodical as ants are said to be, without so much as the smoke signals of a Marlboro break. One could be observed moving around a filmmaker's or geologist's tripod. One was in charge of laborers. The other two shaped the structure – let's call it a ramp. My aerial witnessing was visceral. I felt the imprint of tire tracks and mud cracks. As the ground reabsorbed the water (evaporation sped by hot weather), the ramp settled palpably (today's camera resolutions are something!) as if for a nap. The hulks churned up a precarious catwalk, guided by stakes placed in a curving pattern. When one white steel beast keeled over, a yellow one rescued it. Their unsettling ruckus (the drone picked up sound like a blood hound) shook the earth. A shaper measured the ramp's slopes with more stakes. From on high, the competed assemblage resembled a raised teardrop on the land.
Over breakfast at Motel Palenque Falls, an idiosyncratic wreck chosen by Suz (an alligator in the lobby pond sized up every guest), which we supposed was our last meal on this trail ride, I told Suz about the ramp. She seemed detached from the topic, but later phoned as she hiked in haste toward it.
I have a confession to make…Before I get into it…I'm passing what you could call motel accommodations for opossum, shrew, mole, raccoon, ferret, skunk, badger, fox, coyote, bobcat, mountain lion, antelope, squirrel, prairie dog, gopher, mouse, rat, porcupine, beaver, rabbit…
Suz, are you all right? Today's heat would make anyone's head spin.
Antwork on the horizon…Coordinates: due west. Approaching from the northeast, I see mixed-grass plains, red rock, blue sky starboard; mixed-grass plains, red rock, blue sky port-side; mixed-grass plains, red rock, blue sky aft; mixed-grass plains, red rock, blue sky forward. Work's getting bigger. It's like a golf course bunker—or a temple…Almost there…Made it!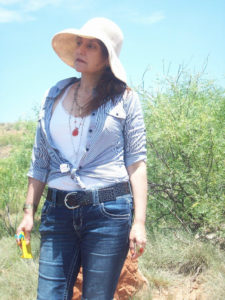 Here, the signal was lost, so I sprang in a pickup and sped straight to the teardrop. Moments later, my brakes spread a cloud of red dust over the foot of it. Suz removed her earbuds, which released America's Horse with No Name, another jukebox selection, into the sweltering atmosphere.
Yes, Suz was the creator of the ramp/teardrop, the lead Ant during weekends, days off, nights, with the connivance of acolytes. A recent epiphany, a secret kept from me, explained her actions. Back at college, she had been introduced to the work of artist and essayist Robert Smithson, whose heyday was the 1960s and early 1970s. She went into Smithson's worldview. His terms having to do with non-sites, crystals, spirals and mirror travel filled the air. What else was there to do but rib her about smoke and mirrors, pile into the pickup and jolt through mixed-grass plains, red rock and blue sky toward Palenque Falls for a showdown with Smitty, the members, their lawyers and sheriff deputies? During the short journey, Suz hummed hits from the jukebox.
sources
Graham, Kenneth, Wind in the Willows (1908)
Holt, Nancy, The Making of Amarillo Ramp (1973/2013)
Mojtabai, A.G., Blessèd Assurance: At Home with the Bomb in Amarillo, Texas (1986)
Smithson, Robert (1938-1973), Collected Works (quotations from Hotel Palenque (1969/72))
Tatransky, Valentin, Catalogue of Robert Smithson's Library: Books, Magazines and Records (1973)
images
Robert Smithson's Amarillo Ramp in 2016
acknowledgements
Suzanne Daniels alias The Golf Widow
HDTS 2020: The Guests of the Hotel Palenque, High Desert Test Sites
Renaissance Golf Design