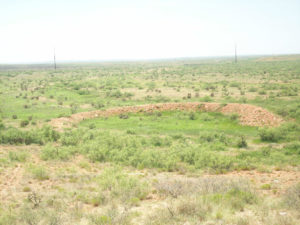 Palenque Falls Country Club was a routine job until the Snakes took control. The Snakes, as in "snakes in the grass" (a characterization to which an amateur herpetologist among us objected), were a small cabal at Smitty Associates radicalized by climate change who revolutionized our renovation of Palenque Falls. The Snakes called themselves the Smitty Dissociates.
The métier of the Associates was design. Local contractors and sub-contractors turned our ideas into reality. At first, the rebellion was shrugged off as dumb-kid pranks and business-as-usual prevailed. Yet it soon transpired that members of the construction and irrigation crews were in the (paid) service of the Dissociates. For starters, "someone" could not resist the rocking jukebox in the Grille alias Saloon. Without warning, we were bludgeoned by a Who's Who of a bygone era:
David Bowie, The Rise and Fall of Ziggy Stardust and the Spiders from Mars
Bob Dylan, Bringing It All Back Home
Neil Young, After the Gold Rush
Once, a rattler "somehow" slipped through the jukebox's "stage door" and coiled around Alice Cooper's Killer for a siesta. Once (it could not happen twice!), a disco ball (the Saloon became the Ballroom for weddings, quinceanarias and reunions) fell victim to its previous excesses with a spectacular crash, or was knocked from its perch on purpose. Try working around glass shards, to say nothing of dancing on them. The Dissociates and their recruits advanced from the jukebox to vandalizing irrigation pipes and blistering our renovation in social media. Its life blood cut and its reason for being questioned, Palenque Falls was in the throes of desertification. The fairways curving through the landscape, and the greens dotting it, turned brown. Exposed rocks on the par-three 4th, the Niagara hole, could have passed for the tomb for Lazarus. The clubhouse had become, according to one Yelp review:
A garden of cast-off bricks…A kind of great mass of filigree just winding all around itself…(an abandoned chair) rather poignant suggesting the transitoriness of time and the universe and also you can get a better view of the scaffolding in the roof.
Because the clubhouse was the members' home away from home, they had continued to turn up despite the abnormal conditions, and indeed they played the course where circumstances allowed. Yet Smitty, our boss, had to make more trips from his sanctum, a temporary office in a trailer, in order to lift their drooping spirits. The last straw was the sensation created by the migration of the club's collection of golf books to shelves of the local library. A person or persons unknown hid them among Anthropology and Archaeology; Art and Aesthetics; Criticism; Fiction; History, Biography, Politics and Economics; Linguistics; Philosophy; Psychology; Religion; Science; Travel Books and Geography; Magazines; and (vinyl) Records.
Before the club members fired all of us, the Dissociates staked everything on a presentation to all concerned in the temporarily operative Ballroom. Against a backdrop of remains of decorative Spanish moss above a small curved stage where the band used to perform, a dissociate named Suz, who had earned respect for persevering in the male-dominated golf industry, sketched out a business plan of global proportions. She was flanked by supporters slouched over folding chairs turned backward, who also wore baseball caps turned backward. Their idea was to supervise the dissolution of every golf course in existence, to race as foremost experts to each project as climate change dictated. Smitty and the members were by turns contemptuous, amused, insulted and awed. Provisionally, they conceded a profit potential if the science proved accurate, while displaying no enthusiasm whatsoever for an experiment with Palenque Falls itself. Suz countered that they could go down in history as groundbreakers. We adjourned to do our homework on forming a silent partnership.
During one of my restless nights in this tense atmosphere, I viewed drone footage alone in the Saloon, following our progress-in-reverse from the perspective of "outer space," until contrary activity attracted my attention. Over the course of days, August 3 to September 1 to be exact, a spiral appeared in a lakebed. Initially dry, the playa was filled with water, then heavy equipment, which was not authorized to be there, did its thing. Trucks dropped loads of red rubble, bulldozers pushed the red rubble into position. Both types of behemoth raised dust plumes, red scrims carried off by the wind.
Four Ants directed the operation, a counter-revolution of building rather dispersal. I surmised they were the leaders by their periodic huddles. They were as methodical as ants are said to be, without so much as the smoke signals of a Marlboro break. One spent a lot of time with a filmmaker's or geologist's tripod. One was in charge of laborers. The other two shaped the structure – let's call it a ramp. My aerial witnessing was visceral. I felt the imprint of tire tracks and mud cracks. As the ground reabsorbed the water (evaporation sped by hot weather), the ramp settled palpably (today's camera resolutions are something!) as if for a nap. The pouring and spreading hulks churned up a precarious catwalk, guided by stakes placed in a curving pattern. When one white steel beast keeled over, a yellow one rescued it. Their unsettling ruckus (the drone picked up sound like a blood hound) shook the earth. A shaper measured the ramp's slopes with more stakes. From on high, the competed assemblage resembled a raised teardrop on the land.
Once word about the ramp got around, Suz wanted to see it for herself. Her call interrupted us during cards at our motel in town. It was too late to stop her.
I've entered the frontier…I'm on speaker-phone, right?…I'm passing, in my new vaquero hat and black cowboy boots with square tips, what you could call hotel accommodations for opossum, shrew, mole, raccoon, ferret, skunk, badger, fox…The golf people's dreamed of a hotel for homo sapiens, before that mammal became an endangered species at Palenque Falls…Coyote, bobcat, mountain lion, antelope…They wanted a swimming pool, ballroom, restaurant, lobby pond…One comedian proposed tropical green interiors, a suspension bridge for the pond and alligators…Squirrel, prairie dog, gopher, mouse…
Suz, your audience is drifting away.
Rat, porcupine, beaver, rabbit…
You've lost every listener but one. I am staying because I discovered the "Antwork." I feel in your shoes. Er, boots.
This is interesting: on the horizon…
My ramp!
Coordinates: due west. Approaching from the northeast, I see mixed-grass plains, red rock, blue sky starboard; mixed-grass plains, red rock, blue sky port-side; mixed-grass plains, red rock, blue sky aft; mixed-grass plains, red rock, blue sky forward. The goal is getting bigger. It resembles the bunker of a golf course or a temple. Closing in…Closer…The heat makes my head spin….Mixed-grass plains, red rock and blue sky…I've made it. The object is to ascend or descend?
It's your show.
We are at the foot of the temple, so let's ascend…The grade is not steep…There is a view of mixed-grass plains, red rock, blue sky…I've reached the summit.
If you don't see more than mixed-grass plains, red rock and blue sky, reverse course.
Descent initiated. Whoa, who do we have here? It's hard to see in the sun. Smitty?
Smitty? Smitty is in his office.
His father.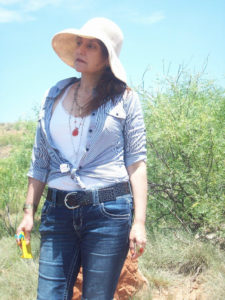 Here, the signal was lost, so I sprang in a pickup and went straight into the frontier. When I slammed on the brakes at the foot of the ramp, which spread a cloud of red dust over it, Suz was talking to the founder of Smitty Associates, who had been dead since 1973. A check of her vitals eliminated my fear that her wandering mind was a consequence of snake bite, so I searched her person for other clues, which materialized right away: a bottle of tequila and baggie of Mary Jane. But both were full.
Then Suz snapped out of it, turned to me and claimed Old Smitty had conversed non-stop. During the séance–we'll call it a séance pending further investigation–he had floated ideas in the air during the late 1960s and early 70s. Suz repeated some of the terminology–non-site, crystal, spiral, mirror travel–and completed the picture by humming songs by Bowie, Dylan and Young. What else was there to do but rib her about smoke and mirrors and pile into the pickup? After jolting through mixed-grass plains, red rock and blue sky, we returned to learn the fate of our entropic enterprise.
sources
Graham, Kenneth, Wind in the Willows (1908)
Holt, Nancy, The Making of Amarillo Ramp (1973/2013)
Mojtabai, A.G., Blessèd Assurance: At Home with the Bomb in Amarillo, Texas (1986)
Smithson, Robert (1938-1973), Collected Works (quotations from Hotel Palenque (1969/72))
Tatransky, Valentin, Catalogue of Robert Smithson's Library: Books, Magazines and Records (1973)
images
Robert Smithson's Amarillo Ramp in 2016
acknowledgements
The Golf Widow
HDTS 2020: The Guests of the Hotel Palenque, High Desert Test Sites