1. Kidnapped. One morning, decades after being separated at infancy from my long-lost twin, I discovered a video posted on the worldwide web which showed a familiar little chap on the Breakfast Island golf links. Off I toddled across the pond to Breakfast Island's shores. Visibility over the Marmalade Hills took the biscuit, but I knew by my watch, and by a feeling of atavistic exaltation, that a sacred ritual was in progress: Breakfast was being served.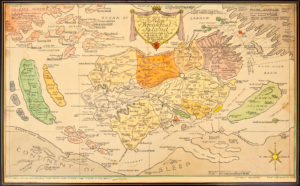 Why look up the bloke? It was important for me to know if he had become a composite of Patrick Macnee in The Avengers, Beatle John Lennon and Sidney Poitier in To Sir, With Love. In other words, how much was John a man of his time, with tastes common to Brits at the beginning of the 2nd Elizabethan reign jolly well ingrained in him? I also had to know the circumstances of toddler John's abduction by the Clubs, his "foster family."
Raised in comfortable circumstances thanks to the exertions of said Clubs (see video for Mum and Da, joint heads of The Clubbers, a gang in Baby Milk Town near Dairy City), my blood brother harbored, I realized upon making his acquaintance, great expectations for himself, even though he looked the worse for wear and was well into middle age. Indeed his expectations mirrored disconcertingly my own fantasies about dear old Breakfast Island. Very particular about his "tuck" (Breakfast Islandese for breakfast), he was anxious to take me on a grand walking tour. He described the excursion as his next step toward "earning a knighthood," a well-known cause of indigestion on Breakfast Island.
Ambition had not made John Club indisposed toward his siblings, a common result of a title race. Like me a second son with three brothers, he had an easy relationship with—in descending order by age—Mark, Matthew and Luke. An odd bird indeed.
Over all manner of fry-ups, John and I followed clues leading to and from his disappearance, guided by Kodachrome slides of photographs taken by our dear mother, as well as letters, email, grocery receipts, transcripts of telephone conversations (a judge authorized them), notes in the margins of high-school and college yearbooks, cooperative (and uncooperative) witnesses, closed-circuit cameras, etc., etc. Let the record reflect that, the Kodachrome Collection is hereby bequeathed, with the concurrence of all interested parties, to the Ham City Constabulary, unless, since statutes of limitation have tolled and the surviving parties have no stomach for litigation, its proper home is deemed to be the Ham University Library.
2. By rail and van. We picked up the trail (after a quick crumpet) on a train bound for Burnt Toast Bay, the scene of the original crime.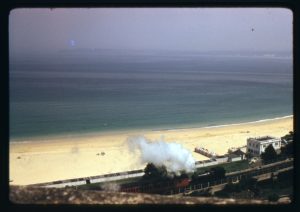 Mom and offspring had entrained in Ham City. Dad, a U.S. Air Force doctor stationed in the university town on the Water River, stayed home. In broad daylight on a public beach, John, as he recounted mournfully, crawled into a picnic hamper for a nosh. He was savoring the pleasures of his mini Breakfast Island, until the hamper was lifted unceremoniously and carried roughly past sun worshippers unacquainted with its contents. Quite the breach of etiquette! The memory of being flung in the windowless back of a van and of screeching tires has haunted him ever since. As his captor scarpered through summer traffic, the future knight failed for the first time to finish a meal.
3. Enter the Sleeping Detective. Rather than notify the coppers, Mom, aka the Sleeping Detective, handled the case on her own.
sources
Boy Golfer, British Pathé (1960)
Breakfast Island, Cyril Phillips (1953)
Hohman Kodachrome Slide Collection
The Posthumous Papers of the Pickwick Club (1836), Charles Dickens
acknowledgments
Masterpiece Theater (1971 to present) and Mystery! (1980 to present), Public Broadcasting Service (USA)
In memory of Eleanor Ann Hohman, 1932-2019