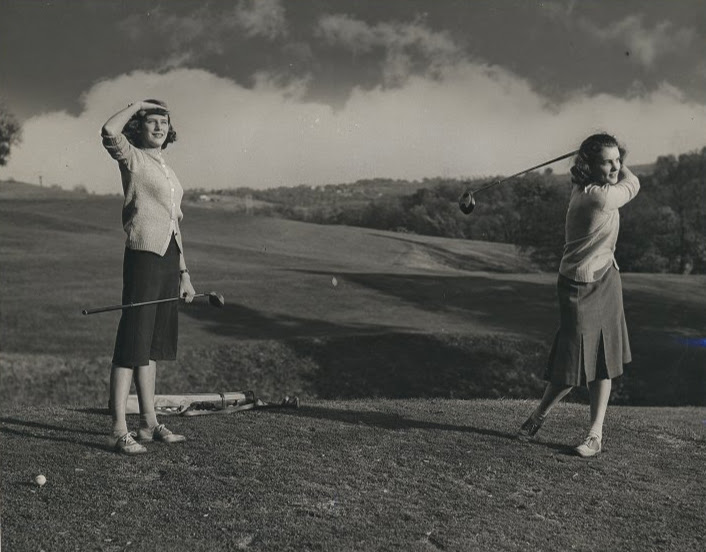 Nancy Drew and special friend Ned Nickerson during a practice round at Schenley Park, Pittsburgh PA, 1939
When we saw her in The Haunted Bridge (1937), Nancy Drew, youthful sleuth extraordinaire, was competing in an amateur golf tournament and (spoiler alert!) breaking up a gang of jewel thieves. Now, in The Secret of the Orphanage, she has (spoiler alert!) contracted polio and must keep a secret rather than solve a mystery.
In a break with tradition, Carson Drew, widower and attorney in private practice, has invited his daughter on a business trip. Thanks to his professional connections, they are guests at Oakmont Country Club beside the high iron-and-manganese content, low pH-level Allegheny River near Smoky City. The trouble is, Papa Drew has not been seen for hours.
In the clubhouse (Fownes and Stotz, 1903), where she overhears bellicose statements about military preparedness, the unescorted invalid must justify her presence to guardians of club protocol.
"Young lady, where did you say your father is?"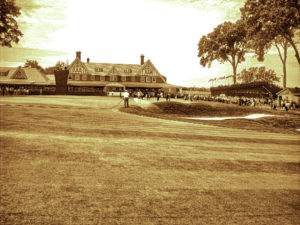 Orphanage appears here in the public domain for the first time. Internal evidence dates the events described herein to the early 1940s.
clue number one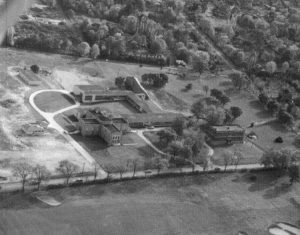 Saint Anthony's Orphanage, Oakmont PA
clue number two
St. Nicholas Croatian Catholic Church (Frederick C. Sauer, 1900), Millvale PA
sources
Carroll, Lewis, Alice's Adventures in Wonderland (1865)
Carroll, Lewis, Through the Looking-Glass, and What Alice Found There (1871)
Lowell, Robert, Christmas Eve in the Time of War (1944)
Nancy Drew Mystery Stories (1930-2003)


images
Schenley Park: Chatham University Archives & Special Collections, Pittsburgh PA
Saint Anthony's Orphanage: Oakmont Carnegie Library Archives, Oakmont PA