Two games were organized, one between Miss Greenfern and Buttertub and another between Stacey and Milly. The distance around the field from hole to hole, or more technically speaking, "the round," was fully a mile, and at the outset Milly, who was costumed for walking, and Stacey, who had taken silver cups as a sprinter, distanced the tightly laced Diana, and the loggy Buttertub.
"The landscape reminds me of Scotland in more ways than one," said Milly. "It seems as if those bayberry bushes must be furze or heather."
"…You know there's an old saying that 'Love is out of season when the furze is out of blossom.' That's because it blossoms all the year round, you see."
"Love is certainly out of season here and now, for I see no furze; but there are thistles, and they are typical Scotch flowers. Thank you. I am not afraid of the prickles; I like thistles, too, because they seem to me the artist's flower. They look exactly like a great paintbrush full of purple paint. Sorry I can't wear them, for I have nothing with which to fasten them. The wind would blow my top-knot off, if I used my hatpin."
"Take my Harvard pin, please," implored Stacey, "and if you will only keep it I will be no end grateful. I never wear it at the university, it isn't considered good form there. I bought it hoping for just such an occasion as this when I might beg you to flaunt the crimson for my sake."
___
The caddy was beating the bushes in search of a quail, when suddenly over the gently rolling hill there appeared first a closed white umbrella, then a picturesque hat, and finally a manly form clothed in corduroys. The gentleman strolled directly toward them; he carried a Parisian sketch box, and was evidently an artist.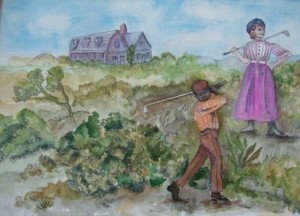 "The Bayberry Bush + John Shippen and Beatrix Hoyt, after William Merritt Chase" (2012) by Carol Vantzelfden.
"An Artist Colony!" Milly repeated, "Is there really anything of the kind here?"
___
Various stages and depot carriages bringing guests from New York, who had come down to see the tableaux, had driven by, leaving people at different cottages; but as yet there was no sign of either Adelaide or Mr. Waite.
"Perhaps he has to drive around by the windmill to show her his studio," suggested Milly.
"He has had time enough to take in Shinnecock Inn and the Golf Club," said Stacey.
"Here comes a carriageful who are staring at us with all their eyes!" remarked Winnie. "Why, it's the Van Noodens."
Both Winnie and Milly bowed, and Stacey lifted his hat; but the Van Noodens swept by with an unrecognizing stare.
"They've cut us dead," gasped Winnie, utterly astonished.
"It is my fault," Stacey explained. "I had an engagement to play golf with Miss Van Nooden, and I forgot all about it."
from "Witch Winnie at Shinnecock" (1894) by Elizabeth W. Champney (1850-1922)