Sewickley Herald
504 Beaver Street
Sewickley PA 15143
Dear Editor,
Once a regular visitor to your community as a cub reporter for the Herald, I had a peculiar experience there which I have kept to myself until now. I relate the illuminating circumstances in your pages because your readers, local people, may possess a morbid curiosity. The trouble started with the Molyneaux map. Yes, L.G.'s infernal Sewickley Heights and Vicinity with its (naively rendered) drawings of the "gentry" hunting and shooting in the company of well-bred horses and hounds.
Thanks to the miracle of 1934 cartography, there I am, walking on Allegheny Country Club's golf course barefoot, unannounced, unaccompanied by a member and without a debutante on my arm, gazing askance at the adjoining estates. The Gilded Age is not over! Evocative names Elm Cottage, Fair Acres, Fairway, Farm Hill, Goodwood, Highlawn, Lane's End, Poplar Hill and Red Gate Farm are deceptively welcoming. To the southwest, down by the Ohio River, are the grand edifices of Osborne, Edgeworth and the village of Sewickley. I bet L. G. would have memorialized them if he had room.
Wilpen Hall (see Folly) is an easy stretch-of-the-legs away, a simple matter of crossing property lines, but the "gentry" block me.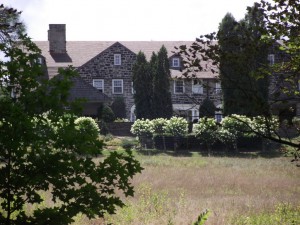 Turning away, I direct my thoughts toward Edgeworth again – an epiphanic movement, for suddenly I'm standing before Seven Gables, built in 1909 by John D. Culbertson. A reference to Nathaniel Hawthorne's The House of the Seven Gables, which its narrator depicts as a "sculpted and ornamented pile of ostentatious deeds"? Had Culbertson wished a duplicate for himself?
The Hawthorniana does not end there. Edgeworth has Hawthorne, built in 1870 by William K. McClintock, and Hawthorn Ridge, built in 1934 by William B. Trainer (architect: Janssen and Cocken); and Sewickley Heights has Pulpit Rock. Was Colonial Revival Pulpit Rock, built in 1901 by Samuel and Jeannette Walker (seven bedrooms, stables, billiard room, circa-1910 elevator, architect: Rutan and Russell) christened after a site of the same name at Brook Farm in West Roxbury MA, the (short-lived) utopian experiment in which Hawthorne participated and on which he based his roman à clef The Blithedale Romance? As I see it, dear editor, I am being invited to make sense of the surrounding privileged utopia through the lens of Dark Romanticism.
Invited? If I don't step lively, I will sooner be the prey of pheasant shooters and fox hunters. The chase rather than the ball could begin any moment. The ball? Yes, at Mrs. Jones's Beaux Arts Fair Acres, designed in 1917 by Hiss and Weekes. Weighing in at 102 rooms (33 bedrooms), Fair Acres should be hard to miss. I wonder if its 17 bathrooms count as rooms? L.G. guides me (uphill, SE, across private property) to Backbone Road, where I cannot resist Farm Hill (architect: William Ross Proctor, with additions by Hiss and Weekes and MacClure and Spahr). Mrs. Edith Oliver Rea's 19 gardeners, preoccupied by Farm Hill's nine greenhouses on 40 cultivated acres lauded as one of the outstanding gardens of America in a 1928 issue of Country Life, look right through me. Her 60-foot waterfall, lily pond, scented garden of heliotrope and lavender and dairy barn inspired by Le Petit Trianon threaten to make me fashionably late for the ball. A stainless hostess, the lady of the Tudor Revival manor bestows a look vicariously when I peer through a window at her portrait by Chartran.
Golfers encountered on my shortcut through holes 2, 3 and 4, like Mrs. Rea's gardeners, look right through me. The only mortal on Quaker Hollow and Pony Hollow roads without a chauffeur, I reach the windows of Fair Acres without sounding alarms in the police department beside the clubhouse. The ball is my idea, held under the nose of Mrs. Jones. The belles of the ball who ornament her walls are perfectly charming. Posing as the butler, throwing my voice, I savor their names and the names of their painter "chaperones."
Harriet Hubbard Ayers and William Merritt Chase
Miss Crewe and Francis Cotes, R.A.
Miss Hobson and Thomas Gainsborough, R.A.
Mrs. Drew and George Henry Harlow
Miss Francis Beresford and John Hoppner, R.A.
The Hon. Charlotte Chetwynd and John Hoppner, R.A.
Mrs. William Locke and Sir Thomas Lawrence, P.R.A.
Miss Maria Woodgate and Sir Thomas Lawrence, P.R.A.
La Duchesse de la Rochefoucauld and Jean Marc Nattier
Miss Sarah Foster and James Northcote, R.A.
Miss Sophia Boydell and Edmund Thomas Parris
Mrs. Gore and Sir Joshua Reynolds, P.R.A.
To be continued, unless the stuffiness of Sewickley Heights becomes too oppressive—
Lady Sarah Bayley and Sir Martin Archer Shee, P.R.A.
In which case your faithful correspondent shall take a brisk walk to Old Economy—
Marchesa Caterina Durazzo-Adorno and Sir Anthony Van Dyck
Founded in 1824 by The Harmony Society, past Camp Meeting Road toward L.G.'s horse cartouche in the NW corner of his map.
Yours most sincerely,
A Surveyor of the Customs
sources
The Eminent Collection of Paintings formed by the late Mrs. B. F. Jones, Jr., Sewickley Heights, Pa. (1941), Parke-Bernet Galleries, Inc., New York
Molyneaux, L.G., Sewickley Heights and Vicinity (1937)
Robinson, Tim, Map of Connemara (1990)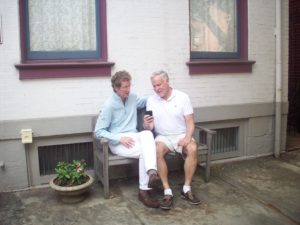 Dedicated to Mike May, former editor of the Sewickley Herald