Pro Shop
Get your free tattoo of the club logo. It comes in permanent and impermanent ink. New Monuments caps and visors are available for purchase. For the living room, family room or wo/man cave, there is a poster of Follow the Money to Torrey Pines. We also offer fascinators designed by the Golf Widow for you and your loved ones.
Gently owned section (make an offer):
Exercise ball
Exercise trampoline
Books (duplicates)
Selected Writings, Antonin Artaud
Waiting for Godot, Samuel Beckett
Dessemination, Jacques Derrida
Mirrors of Infinity, Allen Weiss
Finally, inquire here about booking an appearance of the Old Man and the Golf Widow.
Grille
Recognizing the futility of competing with smartphones, the Board has not installed a juke box or engaged live music acts. It nevertheless recognizes its duty to be hospitable, so patrons are invited to hum Erik Satie's Le Golf (1914).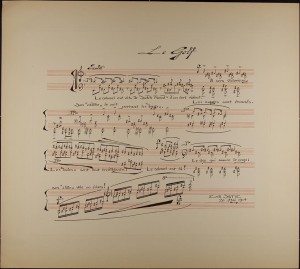 The colonel is clothed in "Scotch Tweed" of a violent green. He will be victorious.
His "caddie" follows him carrying the "bags." The clouds are starstruck.
The "holes" are trembling in fear: The colonel is here! His very presence ensures the coup: His "club" is smashed to bits!
text: Erik Satie (trans: Eleanor Hohman and the Golf Widow)
What's on the tube
What's on tap
Sledgehammer Stout, our inaugural brew, was donated to Sledgehammer Theatre Company (see Community Involvement). Another partnership with Henson Brewing Co – this time a house brew for members – is under consideration.
What's not on the menu
Meat is not served in the Grille.