The Old Man (history), who took up golf in May 2010, writes about it in his life, mediated by art and literature.
The site map and library list influences. His narrative equipment: fiction, memoir, photo, video, scorecard, map, event planning, taxonomy, product placement and more. He started with the commonplace that art can be found anywhere, even in golf, which he had seen previously as the unspeakable in full pursuit of the uneatable. The Old Man tenders New Monuments in conflicted defense of golf. Or rather, since the word lies under cross-examination, golf.
Current Writing
Future Fairways:
Bed A is a critique of the health-care industry and a celebration of one of its inmates, who endures a noisy hospital room and being denied painkillers. Her husband takes revenge by imagining horrible treatments (tastes of their own medicine) for stone-faced clinicians on a golf course outside their window. Craving distraction, our heroine, the titular "Bed A," consults with authority figures of a different nature, from Jane Austen to Tadeusz Kantor. In the end, to the surprise of everybody but her caregiver, the patient executes a tour de force, sitting up in bed on her birthday to improvise a sequel to Austen's unfinished Sanditon.
sources
Jane Austen, Sanditon (1817/1925)
Tadeusz Kantor, Panoramic Sea Happening (1967)

Elizabeth LeCompte and anonymous groupie (the necklace was a conversation starter)
selected ghostwriters, in dramaturgical order of appearance
Marcel Proust, Remembrance of Things Past (Overture) (trans. Moncrieff)
William Shakespeare, Hamlet
Sam Shepard, The Tooth of Crime
James Joyce, Ulysses
Andreas Gryphius, Absurda Comica oder Herr Peter Squenz
Samuel Beckett, Endgame
Tom Stoppard, Rosencrantz & Guildenstern Are Dead
Bertolt Brecht, Mutter Courage
Günter Grass, Katz und Maus
Heiner Müller, Die Hamletmachine
David Mamet, A Life in the Theatre
Elizabeth LeCompte/The Wooster Group, Hamlet
Gertrude Stein/Elizabeth LeCompte/The Wooster Group, Doctor Faustus Lights the Lights
Elfriede Jelinek/Nicolas Stemann, Das Werk (Epilog)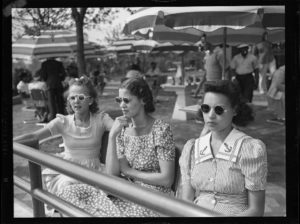 To protect their summer best against mugginess, competitors and fans alike at South Park Municipal Golf Course for the United Golf Association's 1946 Open Championship gravitate toward the umbrellas on the brick terrace of the clubhouse, where light showers (mechanically generated by sprinklers) and fleeting rainbows had refreshed early birds. Bas-relief deities on the building's brick façade set a high standard for composure under an August sun in western Pennsylvania. Music deities and avid golfers Sarah Vaughan and Billy Eckstine, appearing courtesy of a turntable in the locker room, improve atmospheric conditions.
sources
Charles "Teenie" Harris Archive
The Pittsburgh Courier
South Park Golf Club House (1939), design: Henry Hornbostel
Other Writing
During breaks from club business, the Old Man withdraws to a room with a keyboard.
Memberships
Walking Artists Network, Walking Golfers Society, Mt. Lebanon Senior Men's Golf Club (PA), past (long-distance) social member of Fortrose & Rosemarkie Golf Club (SCT).
Fictional Site Visits
California
Sunnylands (design: Wilson), Rancho Mirage
Torrey Pines (South: Wm. Bell, Jr.), San Diego
Georgia
Augusta National Golf Club (A. MacKenzie/Jones), Augusta
New York
Shinnecock Hills Golf Club (Flynn), Southampton
Oregon
Bandon Dunes Golf Resort (Bandon Dunes: Kidd; Bandon Trails: Coore/Crenshaw; Old Macdonald: Doak/Urbina; Pacific Dunes: Doak; Punchbowl: Doak/Urbina), Bandon
Pennsylvania
Allegheny Country Club (Ross/Hanse), Sewickley Heights
Linden Hall (P. Snead), Dawson
England
Heythrop Park (T. MacKenzie), Oxfordshire
Germany
Trümmerbahnen (Weber), Braunschweig/Berlin
Ireland
Taylor's Hill Pitch & Putt and Galway Golf Club (A. MacKenzie), Galway
Mexico
Agua Caliente Casino and Resort (Wm. Bell, Sr.), Tijuana
Non-Fictional Site Visits
Arizona
Fred Enke (design: Benz/Phelps), Tucson
California
Admiral Baker, North Course (Daray), San Diego
Admiral Baker, South Course (Daray/Halsey), San Diego
Arrowood (Robinson), Oceanside
Balboa Park 18 Municipal (& Balboa 9) (Wm. Bell, Sr./Halsey Daray), San Diego
Bonita (Wm. Bell, Jr.), Bonita
Boulder Oaks (Sanderson/Fleming), Escondido
Carlton Oaks (Perry Dye), Santee
Castle Creek (Daray), Escondido
Cathedral Canyon (D. Rainville), Cathedral City
Chula Vista Municipal (Casper)
Cimarron, Boulder Course (Fought), Cathedral City
Cimarron, Pebble Course (Fought), Cathedral City
Coronado Municipal (Daray/Halsey)
Cottonwood, Lakes Course (Moorman/Sears), El Cajon (No Longer Extant)
Cottonwood, Ivanhoe Course (Moorman/Sears), El Cajon
Desert Dunes (Trent Jones, Jr.), Desert Hot Springs
Eagle Crest (D. Rainville), Escondido
EastLake (Robinson), Chula Vista
Emerald Isle (Gandy), Oceanside
Fallbrook (H. Rainville), Fallbrook (NLE)
Goat Hill Park (Keehn), Oceanside
Indian Canyons, North Course (Wm. Bell, Jr.), Palm Springs
Marine Memorial, Air Station Miramar (Daray), San Diego
Marine Memorial, Camp Pendleton (Wm. P. Bell, Sr.), Oceanside
Meadow Lake (Sanderson), Escondido
Mission Bay Municipal (Robinson), San Diego
Mission Trails (Wm. Bell, Jr.), San Diego
Mt. Woodson (Schmidt/Curley), Ramona
National City (Bermudas), National City
Oaks North (Robinson), Rancho Bernardo
Oasis (D. Rainville), Palm Desert
Pala Mesa (Johnson), Fallbrook
Presidio Hills (par 3), San Diego
Reidy Creek (Olson), Escondido
Riverwalk (Robinson), San Diego
Rustic Canyon (Hanse/Shackelford), Moor Park
Sail Ho (Spalding), San Diego
Salt Creek (Bickler/Cook), Chula Vista
Shadow Mountain (Sarazen), Palm Desert
SilverRock (Palmer), La Quinta
Suncrest (Watson), Palm Desert
Sycuan, Pine Glen Course (Holingsworth/Robinson), El Cajon
Sycuan, Oak Glen Course (Holingsworth/Robinson/Fleming), El Cajon
Tahquitz Creek, Legends Course (Wm. Bell, Jr.), Palm Springs
Tecolote Canyon (Trent Jones), San Diego
Torrey Pines Municipal, South Course (Wm. Bell, Jr. and Sr.), La Jolla CA
Twin Oaks (Robinson), San Marcos
The Vineyard (D. Rainville), Escondido
Warner Springs (D. Rainville), Warner Springs
Woods Valley (Ginkel), Valley Center
Colorado
Flatiron Municipal (Tucker), Boulder
Connecticut
Shennecossett (Ross/Mungeam), Groton
Pennsylvania
Mt. Lebanon Municipal (Ormiston)
Ranch View (par 3), North Strabane (NLE)
Schenley Park Municipal (Ormiston), Pittsburgh
South Park Municipal (Loeffler/McGlynn), Library
South Carolina
Charleston Municipal (Adams)
Springfield (Johnston), Fort Mill
Mexico
Bajamar, Vista 9 (Clifford) and Oceano 9 (Von Hagge), Baja California
As observer
The Farms (P. Dye/Fought), Rancho Santa Fe CA
Mission Hills, Dinah Shore Course (Muirhead), Rancho Mirage CA
Oakmont (Fownes), Oakmont PA
Ojai Valley Inn & Spa (Thomas, Bell Sr., Morrish), Ojai CA
Sunnylands (Wilson), Rancho Mirage CA
Under scrutiny of Golf Widow
Admiral Baker, North Course
Balboa Park 18 Municipal
SilverRock
Suncrest
Selected Equipment
The Delinquent (Cleveland driver)
The Geologist (Kenneth Noble Sandefur putter). Club head provenance: Tecopa Hills CA
The Grandpa (maternal grandfather's Spalding persimmon 2-wood, for honorific and decorative purposes)