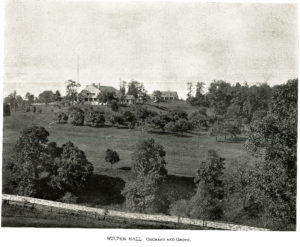 Fair Hill Hall does not replace Fair Hill, which endures despite additions unimagined when its foundations were sunk in Irish soil in the mists of the 1800s. Indeed, if the past is prologue, Fair Hill is expandable to incalculable dimensions; and we are attached to it inextricably. Fair Hill Hall is a supplement to the property – a real-estate ornament – an architectural folly modelled after Wilpen Hall, a safe distance from Pittsburgh PA (see The Molyneaux Invitational).
Appearances to the contrary, we are not committing the folly of seeking entrée into a social "Blue Book." We do not consult such "books." Verily, our principals, the Old Man and Golf Widow, have not, so far, accumulated wealth like Wilpen Hall's owners past and present. The Club has operated in the red since its inception in 2011. Seven supporters materialized on opening day, each plunking down the $25 membership fee for password-protected access. Yet similarly inclined souls did not present themselves over the next year or two or three. Accordingly, New Monuments did an about-face: We opened to the world, asking for voluntary contributions in return.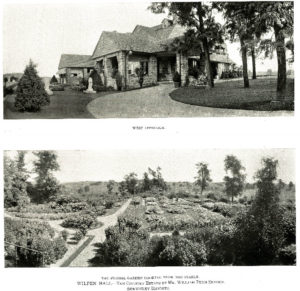 Our fortunes were not made thereby. Custom in the pro shop is the very opposite of brisk. Caps, visors, posters and fascinators collect dust. Choko, our equine sales force based in Tecate MX, has neither moved merchandise nor brought newbies into the fold. Projected community outreach such as New Monuments signs on bus-stop benches is arguably folly too. Our fascination with Wilpen Hall rather is aesthetic.
Why this Gilded Age manor house (architect George C. Orth, 1899)? In splendid isolation on a hilltop in "The Heights" (Sewickley Heights), the bastion built by a captain of industry, aka robber baron, used to command the attention of a cub reporter (the Old Man) for the Sewickley Herald rattling past in his Volkswagen Fox. Had the Sewickley Hunt deigned to look down its collective nose long enough to read his thoughts, which have circled back to Wilpen Hall's sandstone-and-shingle façade and capacious seven-chimneyed roofline trespassingly ever after, it would have run him out of town.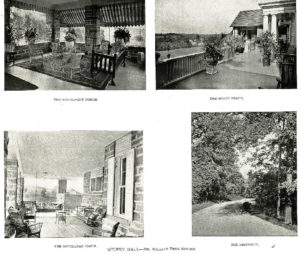 Strike trespassingly. His reveries have enabled him to occupy all 23,000 square feet lawfully.
While admiring Fair Hill Hall (and nearby Hall Jr.), you may spot our mobile folly too, a collapsible Accordium Camp Trailer (1960). Users of the Accordium, designed by Henry P. Glass for Alcoa Aluminum of Pittsburgh's "Forecast" program, are at liberty to camp anywhere on Club property according to their needs.
"Forecast: There's a world of aluminum in the wonderful world of tomorrow…where shelters of aluminum will fold like an accordion to accompany you anywhere…and unfold where you will in peacock glory."
Our last Folly is another "Forecast" invention, the View Box, which provides "a sense of shelter, but little sense of enclosure." Designed by John Matthias, View Box is, according to Alcoa, "…as kind to the landscape as sunlight…as portable as the tents of the Arabs," and can be put together by a "woman and a six-year-old child."
Oh, and before we forget: Expect to run into Eames, Farmer and Girard storage units, our internal boundary markers. (Unable to choose one, we may keep all three types.) Their rotating displays of objets d'art are curated by the Golf Widow. As Lewis Mumford wrote in 1954, storage provides the present with freedom from the burdens of the past, without destroying it.
images
Gall, George H., Homes and Country Estates of Pittsburgh Men (1905)