Front Office (aka The Board)
View the swing that launched a million drives.
Eleanor Hohman (1932-2019)
Community Involvement
Financial contributor to Crohn's & Colitis Foundation of America, Djerassi Resident Artists Program, Farm Sanctuary, Golf Club Atlas, Charles "Teenie" Harris Archive, HDTS 2013, KPBS (San Diego), Printed Matter, John Shippen Memorial Golf Foundation and The Wooster Group
In-kind contributor to Sledgehammer Theatre: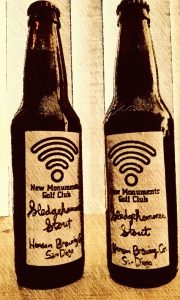 Manager/sponsor of newmonumentsgc.com in Studs Up!, Sons of Studs Up! and COVID NC leagues of Fantasy Premier League
Accounting Department
Make a donation in any amount and/or a pro-shop purchase here:


To donate, purchase or contribute otherwise, start the discussion at the Contact page. The Old Man promises upgrades until his expiration date. Note from our Eco-Accountant: The Club's annual energy usage would power an electric car for 14.3 miles.
Effective August 2019, all monies shall be distributed as follows:
25% Rockland Psychiatric Center, Orangeburg NY
25% The Wooster Group, New York NY
50% New Monuments Golf Club
Proceeds to date (since 2011): $125
Back Office
Angelina Albanese, San Diego CA (web development & design)
Anonymous, San Diego CA (usable golf bag abandoned on street)
Keith Barnes, San Diego CA (photo & video technical support)
Evita Castorena, Carlsbad CA (web development & design)
Carnegie Library of Pittsburgh, Pennsylvania Department (Pittsburgh Courier)
Randy Chiurazzi, San Diego CA ("electronic golf bag," i.e. laptop)
Choko, Tecate MX (cap modeling & sales)
CyberBasement, Monument CO (tech support)
Ryan K.T. Chung, San Diego CA (Follow the Money to Torrey Pines map)
Neil Damron, Indianapolis IN (camaraderie)
Suzanne Carol Daniels, San Diego CA (creative & editorial support (see Workshop) + The Old Man's clubs The Delinquent & The Geologist)
Carl Dershem, San Diego CA (Erik Satie audio clip)
Mike Gallivan, San Diego CA (camaraderie)
Judy Guerrieri, Pittsburgh PA (The Olde History of the Pittsburg Field Club)
Hayden Henson, San Diego CA (Sledgehammer Stout)
Barb Hohman, Charlotte NC (Follow the Money to Torrey Pines scorecard)
Eleanor Hohman, Pittsburgh PA (proofreading, golf clubs)
Tom Hohman, Charlotte NC (golf clubs & bag)
Steven McBride, Olive Branch MS (logo)
San Diego Public Library staff, San Diego CA
Sewickley Valley Historical Society, Sewickley PA (Molyneaux Invitational map)
Heather Thatcher, Palm Desert CA (The Geologist)
Carol Vantzelfden, Palm Desert CA (Shinnecock Vignette painting)
Van Weaver, San Diego CA (golf clubs)
image credits
Bethany and Todd Brown, Pittsburgh PA (Spotlight: Pittsburgh Field Club)
Al Bruton, San Diego CA (Walter Mitty Champions Tour)
Jonathan Derham, Enniscorthy, Ireland (Road to Taylors Hill and Scholar's Rock)
Kathy Detweiler, Mission TX (Linden Hall's Devil's Room)
Mike Gallivan, San Diego CA (Monster Links videos)
Julia and Lauren Haigh, Fallbrook CA (Reading the Green)
Eleanor Hohman, Pittsburgh PA (Chavignolles Manor, Molyneaux Invitational, Ordale & others)
Eric Hohman, Yakima WA (Old Man beneath Tree of Wisdom)
Tom Hohman, Charlotte NC (Ranch View video)
Tabby Lancaster, San Diego CA (Monster Links thumbnail)
mitue (Till Eulenspiegel's Golf Holiday)
Historical Society of Mount Lebanon, Mt. Lebanon PA (Ideal Sports Shop)
National Park Service, Frederick Law Olmsted National Historic Site (Putting Green)
Veronica Rodriguez, San Diego CA (Choko photos and video)
Carol Vantzelfden, Palm Desert CA (Mango photo and New Monuments Baby video)
David Walton, Vancouver, B.C. (Old Man video)