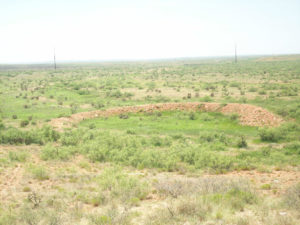 Palenque Falls Country Club was a routine job until the "Desert Rats" took control. The Rats were a small coterie at Smitty Associates who, radicalized by climate change, revolutionized our renovation of Palenque Falls. They blistered it in social media. They vandalized its water pipes. Without their gallons, the exposed rocks at the par-three 4th alias Niagara hole could have passed for a tomb for Lazarus. The misdeeds of the Rats earned them a second moniker, the Smitty "Dissociates," which they adopted with glee. Us they dubbed the "Old Cowboys" and the "Meatheads." Its life blood cut, Palenque Falls was in the throes of desertification. The fairways curving through the landscape, and the greens dotting it, turned brown. The clubhouse, the members' home away from home, deteriorated ruinously.
One eyewitnesses reported:
Floors go nowhere, stairways disappear into clouds.
A garden of cast-off bricks.
At first, the vandalism was shrugged off as dumb-kid pranks, a cost of doing business. The rocking jukebox in the Grille alias Saloon greeted us mornings with a Who's Who of the usual suspects for the time and place:
David Bowie, The Rise and Fall of Ziggy Stardust and the Spiders from Mars
Alice Cooper, Killer
Bob Dylan, Bringing It All Back Home
Neil Young, After the Gold Rush
Once, a rattler slipped through the jukebox's "stage door" and coiled among album array for a siesta. (I can't swear on the Good Book that it settled on Alice Cooper.) The fall of a disco ball (the Saloon became the Discotheque for weddings, quinceanarias and reunions) scattered hundreds of glass shards
Another eyewitness observed:
…(an abandoned chair) rather poignant suggesting the transitoriness of time and the universe and also you can get a better view of the scaffolding in the roof.
In the rubble, among books about golf, were Dante's Divine Comedy and Eliot's The Waste Land.
It's done slowly with a certain degree of sensitivity and grace so that there is time for the foliage to grow through the broken concrete, and there is time for the various colors on the wall to mellow under the sun. So you get this kind of really sensuous sense of something extending both in and out of time, something that doesn't belong to the earth and really something that is rooted very much into the earth.
Eventually, against the odds, the last laugh was shared by all. Instead of spiraling toward insolvency after our client, we Old Cowbodys alias Meatheads had a change of heart. The Rats alias Dissociates, basking in statistically significant support (feverish among the young), were accepted into the fold. There was a future in the entropic business.
And life at Palenque Falls did not end after humans called it a day. The story of Ratón, Cierva, Geco and Tejón has a place in the annals.
sources
Graham, Kenneth, Wind in the Willows (1908)
Mojtabai, A.G., Blessèd Assurance: At Home with the Bomb in Amarillo, Texas (1986)
Smithson, Robert (1938-1973), Collected Works
Tatransky, Valentin, Catalogue of Robert Smithson's Library: Books, Magazines and Records (1973)
image
Robert Smithson's Amarillo Ramp in 2016