The Golf Widow and the Old Man will do field work at Oakmont CC during the U.S. Open in June. Help them out, they are traveling to Pittsburgh on a shoestring. The Old Man will be on his own at South Park Municipal, a stop on golf's Chitlin' Circuit during the Jim Crow era and the home of an Expressionist clubhouse designed by Henry Hornbostel.
Postscript: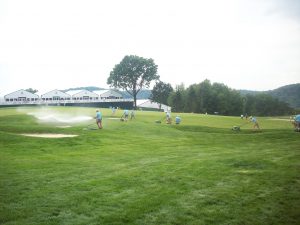 Mission accomplished!
Other club business was conducted at Andy Warhol's grave (PA) and on the return leg at Robert Smithson's Amarillo Ramp (TX) – thanks for the hospitality, Brad Holland! – and Arcosanti (AZ).